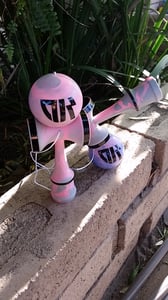 $

32.00
This is the classic deathray 6th gen we with the classic sick look... ghost gray with pink marble like color . it's cast this way not painted like the splat sires , so no paint chipping here . also has the OG deathray pin stripes and the DR on the tama in black ... and don't forget it's hand cast resin with a re enforced core to help to prevent the ken from breaking , that's known to happen with regular resin kens ....
Now I currently have two for this week one has a pink and gray tama and the other is a pink and blue marble tama so make sure to pick the right one in the option menu ..
Specs:
Deathray death grip for some of the more tech ken tricks
Re enforced ken core to help prevent breaking
Cast in resin color , so no chipping

Classic sculpted tama bead
And last but not least , the hole on the tama is a different color so you can spot it for a sick landing every time .